How to Upgrade Your Hosting Package with SiteCountry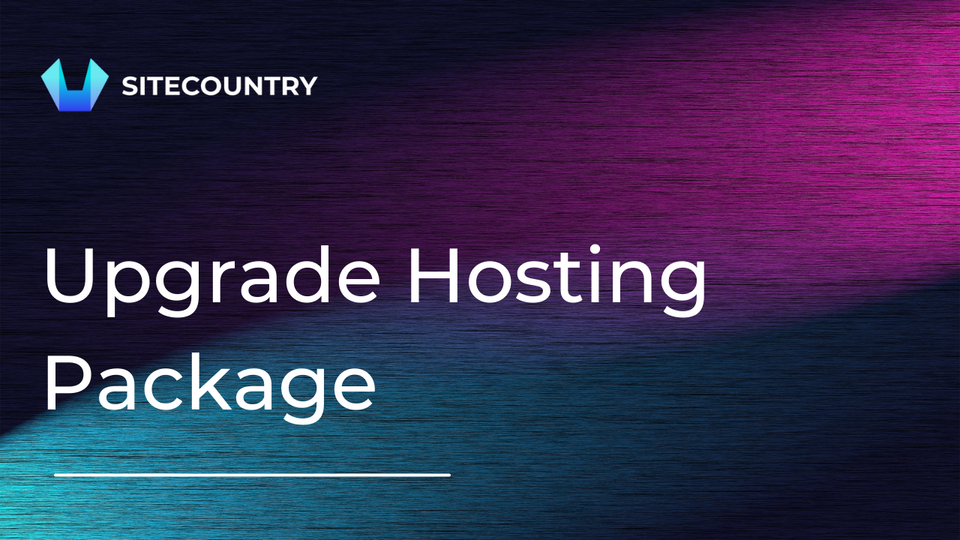 Choosing the right hosting package is crucial for the success of your website. As your online presence grows and your needs evolve, you may find it necessary to upgrade your hosting package to accommodate increased traffic, additional resources, and enhanced performance. In this article, we will explore the process of upgrading your hosting package with SiteCountry, to ensure a seamless transition and uninterrupted online presence.
Assess Your Hosting Needs: Before initiating an upgrade, it's important to assess your current hosting needs. Evaluate factors such as website traffic, storage requirements, resource usage, and anticipated growth. This analysis will help you determine the appropriate hosting package that aligns with your present and future needs.
   If you are not really sure about Your Hosting Needs, feel free to contact our          Dedicated  Customer service team who will help you assess your needs.
Explore SiteCountry's Hosting Packages: SiteCountry offers a range of hosting packages tailored to different requirements. Familiarize yourself with the available options, such as Public Cloud, Premium Cloud, Elite Cloud, Cloud VPS, etc. Each package comes with specific features, resource allocations, and scalability options. Choose the package that best suits your needs and provides room for growth.
Contact SiteCountry Support: Once you've identified the hosting package you wish to upgrade to, reach out to SiteCountry's support team via Chat/ Tickets or Telegram to initiate the upgrade process. The support team will guide you through the necessary steps and address any concerns or questions you may have.
Upgrade Process: SiteCountry's support team will guide you through the upgrade process, which typically involves selecting the desired hosting package and configuring the necessary settings. Once you have decided on the right web hosting package, then you will be provided with the upgrade invoice to complete the upgrade payment. The support team will assist you in transferring your files, databases, and other relevant data seamlessly.
Test and Verify: After the upgrade, thoroughly test your website to ensure everything is functioning correctly. Verify that all pages, links, functionalities, and plugins are working as expected. Monitor the performance of your website to ensure it meets your expectations and performs optimally.
Optimize and Customize: With the upgraded hosting package, you may have access to additional features and resources. Take advantage of these enhancements to optimize and customize your website further. This could include implementing caching mechanisms, content delivery networks (CDNs), SSL certificates, or other performance-enhancing tools offered by SiteCountry.
Ongoing Support and Maintenance: SiteCountry provides ongoing support and maintenance for your hosting package. Should you encounter any issues or have questions, their support team is available to assist you. Stay informed about any updates, security patches, or performance optimizations recommended by SiteCountry to ensure your website remains secure and up to date.